Prices of Summer Houses on the Aegean Coast
---
Ağu 21 2023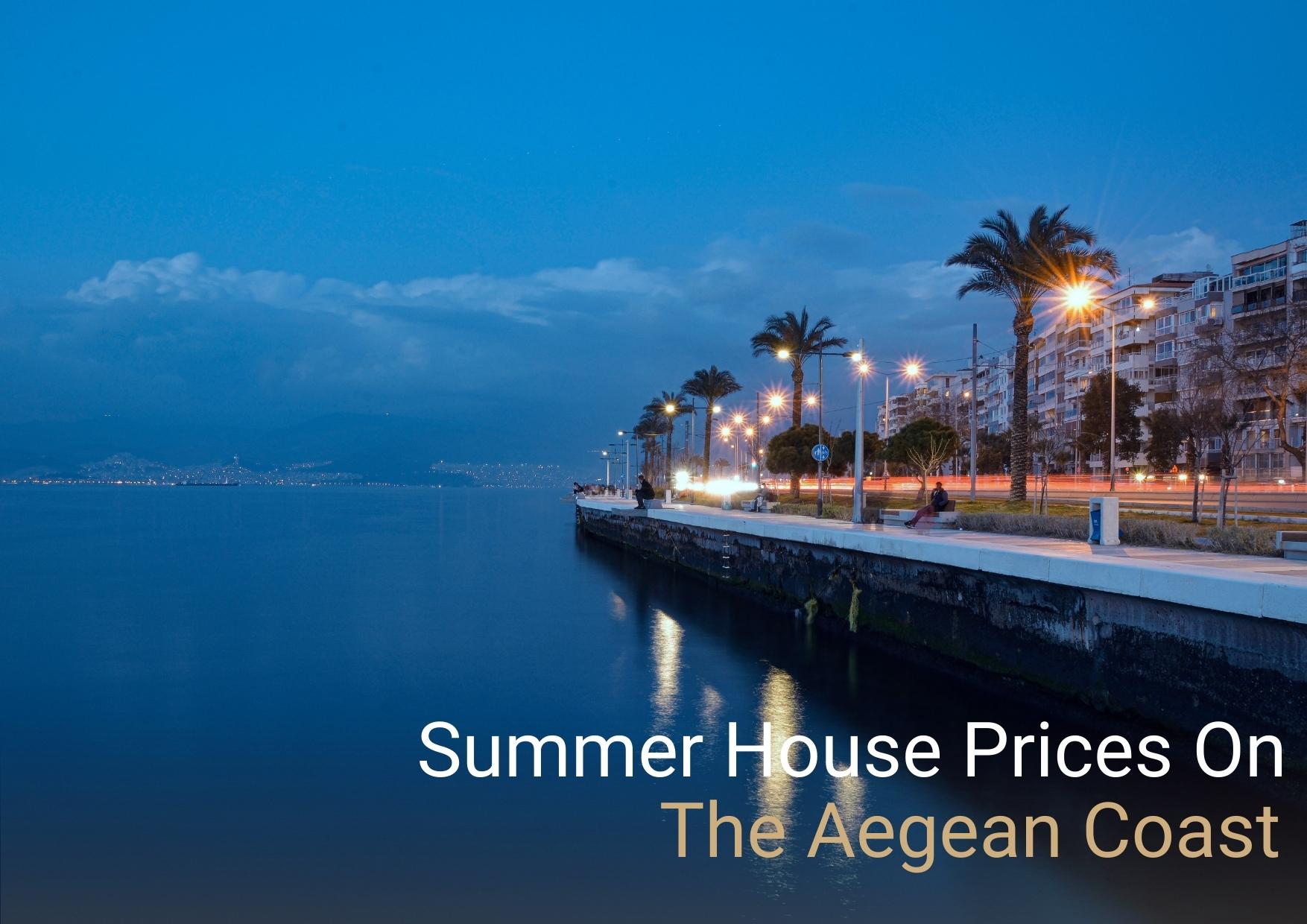 Contents
1. Prices of Summer Houses on the Aegean Coast
1.1. The Summer House Market on the Aegean Coast: An Overview
1.2. Popular Holiday Places and Price Trends of the Aegean Region
1.3. Factors Affecting Property Prices
1.4. Price Comparison between Summer Houses for Sale and Rent
1.5. Luxury and Economical Summer Houses: Price Differences and Reasons
1.6. Future Real Estate Trends and Price Prospects of the Aegean Coast
1.7. Buying an Investment Summer House in the Aegean Region: Cost and Return Analysis
1.8. Seasonal Changes Affecting Summer House Prices on the Aegean Coast
1.9. Opinions and Suggestions of Real Estate Appraisers
1.10. Points to Consider When Buying a Summer House on the Aegean Coast
1. Prices of Summer Houses on the Aegean Coast
The Aegean Coast is one of Turkey's most popular holiday destinations and has become an indispensable part of the summer months for many people. This region welcomes thousands of holiday lovers every year with its beautiful beaches where the sea meets the turquoise blue, its historical texture and natural beauties. So, how are the prices of summer houses on the Aegean Coast shaped? In this article, we will shed light on this person under the heading "Price Analysis of Summer Houses on the Aegean Coast".
1.1. The Summer House Market on the Aegean Coast: An Overview
The Aegean Coast offers various holiday alternatives with its different regions. Popular holiday destinations such as Bodrum, Çeşme, Kuşadası and Marmaris attract attention with their different features and atmospheres. Each with its own unique beaches, restaurants and entertainment venues attracts a great deal of vacationers. Summer houses on the Aegean Coast are densely populated during this popular period.
1.2. Popular Holiday Places of the Aegean Region and Price Trainings
Summer house prices on the Aegean Coast vary depending on geographical location, proximity to the sea, size and luxury house. Summer house prices that appeal to the luxury segment such as Bodrum may be higher than the more economical options. Especially with sea view or seafront location homes, often with higher price tags than sales rep.
1.3. Factors Affecting Property Prices
There are many factors that show the prices of summer houses on the Aegean Coast. These factors include the touristic popularity of the region, infrastructure facilities, proximity to the beach, natural beauty in the surrounding area and historical access. In addition, real estate housing and the general economic situation is an important factor in keeping prices.
1.4. Price comparison between Houses for Sale and Rent
Those who want to own a summer house on the Aegean Coast usually choose between the options for sale or rent. The price differences between houses for sale and rental may be a reason for preference between long-term investors and short-term vacationers. In the case of a purchase, the rental option may offer a more flexible vacation opportunity, while considering long-term returns away from the landlord.
1.5. Luxury and Economical Summer Houses: Price Differences and Reasons
Summer houses on the Aegean Coast can be predicted in luxury and economic segments. Luxury villas usually have a system such as large land, private pool, security and accordingly higher prices are sold. Economic options, on the other hand, may have smaller square meters and more basic features, offering more affordable prices.
1.6. Future of Aegean Coast Real Estate Trends and Price Prospects
Real estate trends continue on the Aegean Coast. Demands for seconds generation and eco-friendly concepts are increasing. Therefore, the purpose of use of the solution of environmentally friendly and energy efficient summer houses. However, property prices in the area are likely to continue to rise, although this may vary at different pace of increase.
1.7. Buying an Investment Summer House in the Aegean Region: Cost and Return Analysis
Those who are considering buying a summer house on the Aegean Coast, those who are considering investment purposes, should make a cost and return analysis. Factors such as return on investment, touristic popularity of the region, rental income and expectations of real estate prices should be considered. Getting support from a professional real estate service can help you make the right investment decisions.
1.8. Seasonal Changes Affecting Summer House Prices on the Aegean Coast
Summer house prices on the Aegean Coast may also change seasonally. While demand increases in summer, demand may decrease in winter. This may cause prices to fluctuate seasonally. Those considering buying a home ahead of the holiday season can often face higher results.
1.9. Opinions and Suggestions of Real Estate Appraisers
It is important to consult the opinions of real estate appraisers when making a summer house price analysis on the Aegean Coast. Experts can provide detailed information about region-specific market trends, customer expectations and investment discount. They can also help you evaluate potential risks and rewards.
1.10. Points to Consider When Buying a Summer House on the Aegean Coast
There are some important points to consider when buying a summer house on the Aegean Coast. Basically, you have to set your budget and decide the way you want to get it. You should consider factors such as real estate position, capital, growth factors and yield returns. Also, it would be beneficial to have an expert check before making a purchase.