Villa Options with Pool for Sale in Bodrum
---
Ağu 18 2023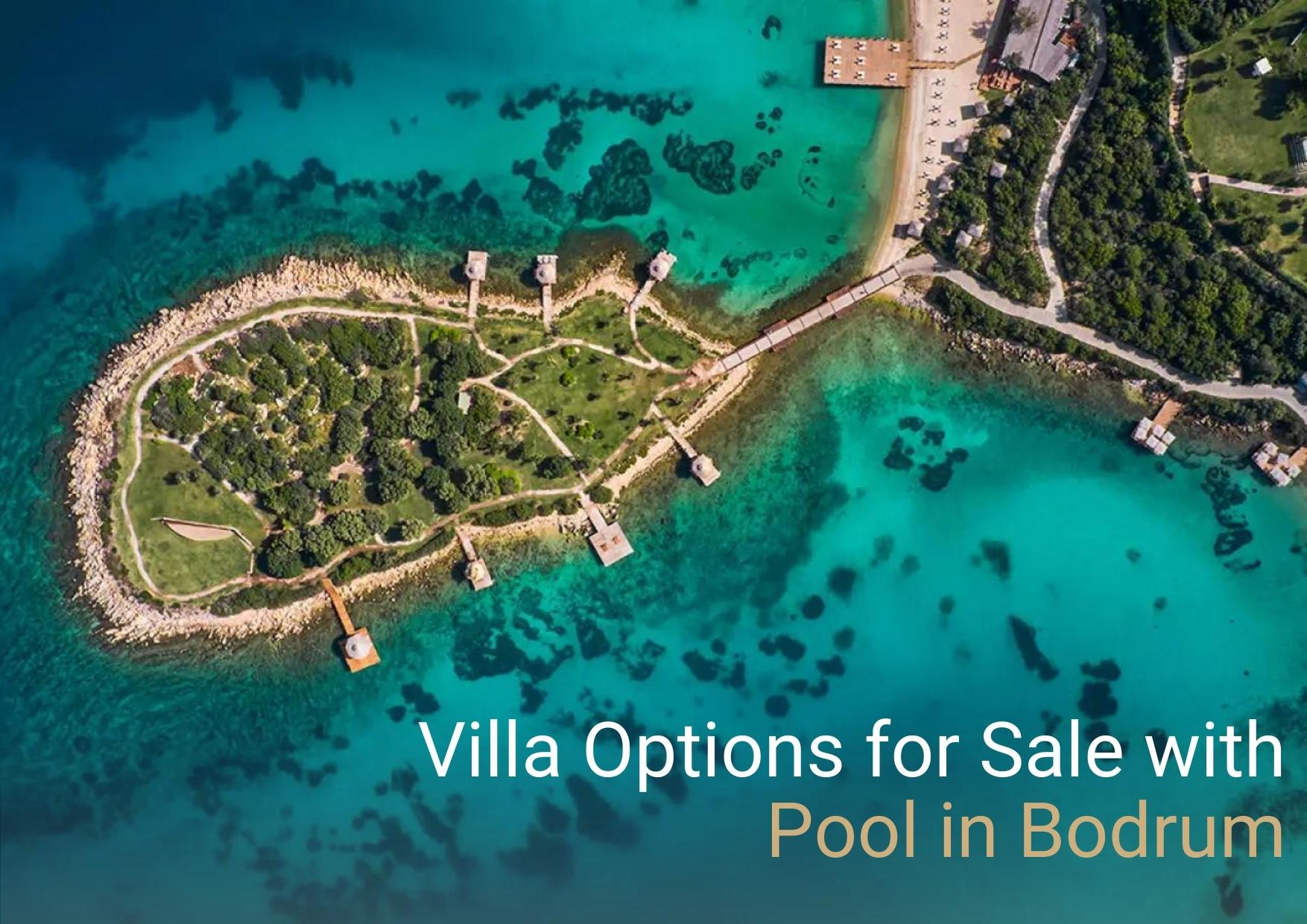 Contents
Villa Options with Pool for Sale in Bodrum
Bodrum is a holiday paradise famous for its turquoise sea, historical texture and unique natural beauties. Offering attractive opportunities for both local and foreign investors, Bodrum also draws attention with its pool villa options. In this article, we will examine in detail the alternatives of villas with pools that you can find in different parts of Bodrum.
Advantages of Villa for Sale with Pool in Bodrum
Villa options with pools for sale in Bodrum offer many advantages in terms of both luxury living and investment. Sea view or large garden villas combine with their private pools to offer a dreamlike life. At the same time, some of these villas can be used for investment purposes.
Different Sized Pool Villas
Bodrum offers villas with pools of different sizes and features. A variety of options are available, from single villas to spacious villas ideal for large families. These villas can be chosen according to your personal preferences and family size.
Sea View Villas with Pool for Sale
One of the most popular options in Bodrum are villas for sale with sea view pools. These villas combine with the magnificent Aegean Sea view to offer a calm and peaceful life. It is an ideal option for both enjoying daily life and using it for holiday purposes.
Villa Options with Luxury Features
Many pool villas in Bodrum are equipped with luxury features. Features such as private spa areas, security systems, modern interior designs are indispensable for those seeking a luxurious lifestyle. These villas guarantee a comfortable standard of living.
Things to Consider When Buying a Villa with a Pool
There are some important factors to consider before purchasing a villa with a pool. Location, infrastructure facilities, environmental factors and the future value of the real estate are factors that need to be carefully evaluated. Getting support from an expert real estate agent is important for you to make the right decision.
Ideal Pool Villas for Vacation
Bodrum is a popular destination for both domestic and foreign holidaymakers. Villas with pools to be purchased for holiday use are ideal for families and groups of friends, especially in summer. You can both enjoy the private pool and discover the beauties of Bodrum.
Investment Villa Alternatives with Pool
Villas with pools in Bodrum can be preferred not only for living but also for investment purposes. The touristic potential of the region and the demand for holidaymakers can positively affect the future value of the villas. For those who want to make the right investment, this option is worth considering.
Villas with Pools in Bodrum with Unique Locations
Every corner of Bodrum has a different beauty. You can choose from villas that are both close to the city center and in the calm nature. You can both enjoy the bustling city life and experience the peace of nature.
Large Garden and Pool Villa Options
If you are looking for a villa with a pool in a large garden, you can find many options in Bodrum. The villas integrated with the garden offer wide areas where your children can play comfortably. This option is ideal for those who are looking for a private living space while intertwined with nature.
The Charm of Modern Designed Pool Villas
Some pool villas in Bodrum stand out with their modern and minimalist designs. Spacious interiors, the use of contemporary materials and stylish details reflect a modern lifestyle. These villas offer an aesthetically pleasing lifestyle.
Villa Options with Pool for Sale in Bodrum
---
Bodrum is a holiday paradise famous for its turquoise sea, historical texture and unique natural beauties.