Top 5 Villas in Bodrum
---
Kas 28 2022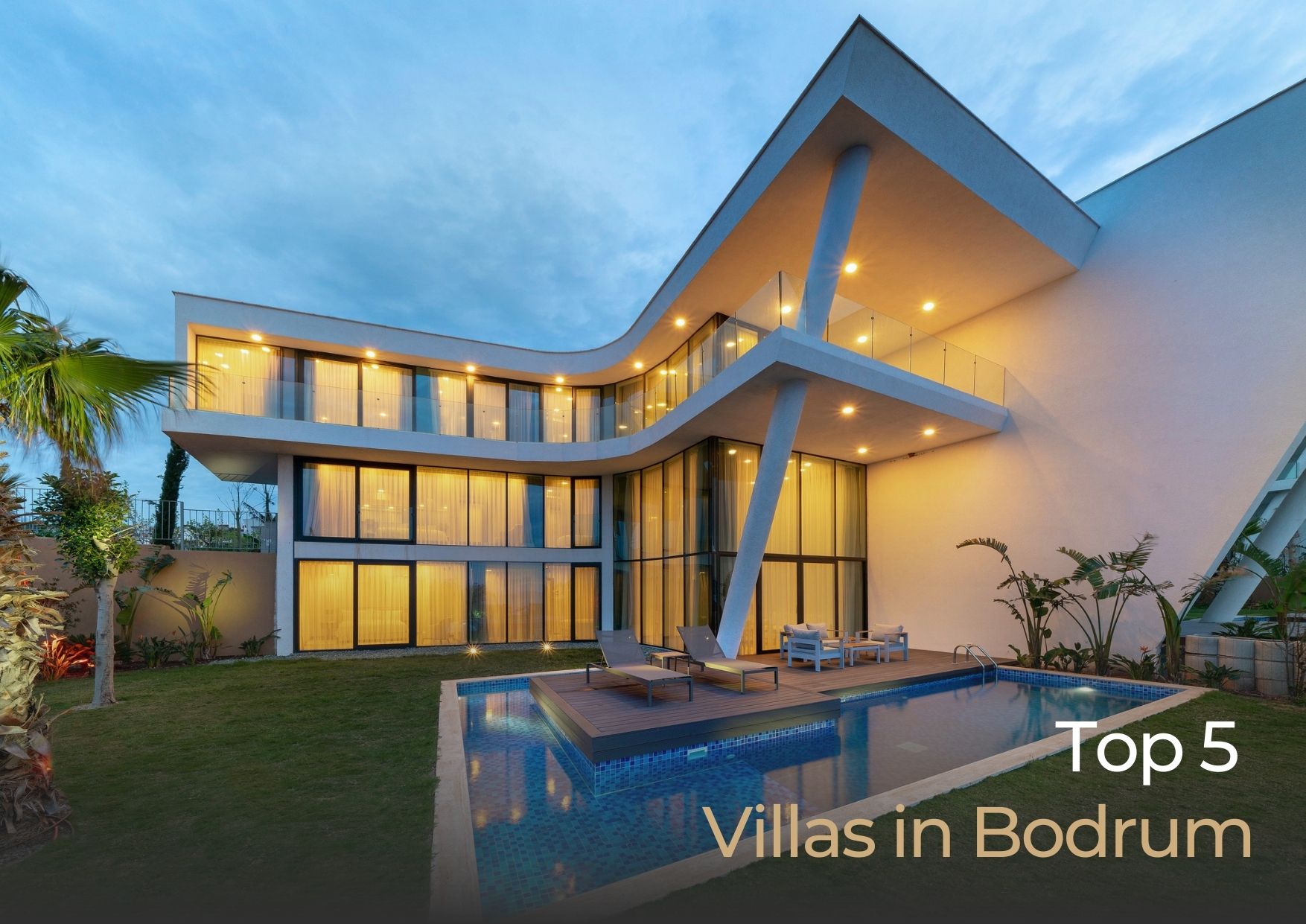 Best Villas in Bodrum For Investment
Charming Bodrum, a port city is the home to one of the Seven Wonders of the Ancient World - the Mausoleum of Halicarnassus right next to your new villa. The pearl of the Aegean coast of Turkey is a vibrant destination on the Turquoise Coast for living and a lifestyle of happiness. The ancient city with a rugged coastline the house of the 10th best marina in the World is ready to host new home owners. The 15th-century castle and whitewashed houses are some of the main attractions when you live here in your new property. The island of Kos, which belongs to Greece, is only 50 minutes by boat from the busy Bodrum Yalıkavak marina. Bodrum has many to offer and two opposite sides, one ancient and the other cosmopolitan you can choose where to experience your new life. Whichever side suits you, you'll find plenty of variety in Bodrum in your new life here. To experience Bodrum lifestyle at its best in your new property here's the list of the 5 best villas in Bodrum.
1.Le Meridien
Every day you spend at Le Méridien Bodrum Residences makes you feel at home with its first-class service quality, restaurants and various activities. Le Méridien Bodrum Residences, located on a peninsula of 83,000 m2, 13 kilometers from Bodrum International Airport; It has 76 residences in 18 blocks.

It provides energy efficiency with high degree of heat insulation with glass produced specifically for the project in Germany and these residences are suitable for living 12 months by keeping the need for air conditioning to a minimum; With its own garden area between 200 m2 and 500 m2, you can see the sea view from all its rooms and bathrooms. In addition, residences are fully decorated and high-tech houses in Le Méridien standards.

With its award-winning contemporary design and flawless attention to details, 3 bedroom terrace apartments and 4 bedroom garden duplexes with a magnificent view of the Aegean guarantee the unique comfort of luxury life. Consisting of 4 + 1 garden duplex residences and 3 + 1 terraced residences, Le Méridienn Bodrum Residences can be accessed from each room to the terrace.

Halls and rooms, all with panoramic views of the sea and islands
15 minutes to Bodrum airport
Award-winning architecture (prestigious awards in 3 categories)
Isolated and private cove / 650 m coastline / sandy beach
Fully furnished and fitted kitchen according to Le Méridien standards
A hassle-free investment (easy, prestigious and valuable)
The ability to receive an average of 7-10% of net investment income per year
2.Six Senses Bodrum
Alongside a team of world-renowned architects,the project has been sculpted a place not just to call home, but to share with a like-mindedcommunity. Within the bosom of Six Senses Kaplankaya you'll find an integrated, holistic experience that upholds a deep respect for people, the environment and wellness.Named after the local folklore of Anatolian tigers who lived in the area, it has become Kaplankaya's emblem. The Anatolian Tiger represents the intention to bravely preserve and respect all that is authentic to the land and cultural identity, whilst striving to create the freedom and wellbeing we all seek in our lives. The desire to embrace both the man-made and natural is integral to Kaplankaya's design and ethos, with an emphasis on how the two cohabit. Unearth, explore and nurture this symbiosis in the
beating heart of courageous Tiger Rock.
Designed by award-winning architect Carlos Ferrater, the Six Senses Residences Kaplankaya blend seamlessly into the South Aegean landscape. From Spanish oak flooring to full-sized Villeroy and Boch tubs, each property hosts a wealth of carefully considered, artful design. Sitting between 1,000 to 3,600 square meters of private garden space, the villas are available from 3 to 6 bedrooms with private pools and ocean vistas. Fully furnished Molteni-Dada kitchens with Miele appliances open up to the tranquil gardens beyond, soaking the large dining area in swathes of natural light.

En suite oversized bathtubs and walk-in showers beckon you within, adjoining each master bedroom, with VRV air conditioning throughout for added comfort.
Every villa owner is given access to a variety of serviced or secluded beaches, a club house, restaurants, retail stores, sports facilities and theworld-famous Six Senses Spa. For your peace of mind, you are offered move-in assistance, pool maintenance and 24-hour concierge as part of other services provided with your new Kaplankaya lifestyle.
3.Pera Yalıkavak
A unique dream on the Yalıkavak…
On the shore of dreams by the sea…
Yalıkavak is the place where you can embracing the sparkling blues…
Large windows and terraces opening to the most beautiful sea of the Aegean sea…
Villas with endless elegance through which the sun, waves and sailboats pass…
Welcome to the world of dreams!
From your marina berth in Yalıkavak Marina you can reach so many wonderful destinations. For a truly delightful day's cruising in Turkey, set a north or north-west course out of the marina and discover the many coves, bays and beaches of the Yalikavak Peninsula. It is such a stunning coastline that you'll find it difficult to turn around to head back to port at the end of the day! Or you may wish to venture further afield and cruise to the Greek Islands of the Aegean. Just 12NM away is Kos, one of Greece's Dodecanese Islands, known for its abundant sandy beaches. It's also rich in Greek and Roman antiquities, particularly in and around busy and atmospheric Kos Town. This harbour city is dominated by the 15th-century Castle of the Knights fortress. It's also home to the Kos Archaeological Museum, the Ancient Agora ruins, and the third-century Casa Romana villa with its lavish mosaics. That's just a taster of what's within easy reach of Yalıkavak Marina – your perfect marina base in the southwestern Aegean for discovering Turkey and a number of Greek Islands.
4.Seba Mare
A magnificent sunrise makes you feel reborn every day. You open your eyes to the bright blue of the sea. Bodrum's unique color palette is enriched with the green of olive trees and the white of the sands. You are closer than ever to the calm waves and the fresh sea breeze. You have a vibrant joie de vivre within you.
Imagine! And soft sunsets towards evening
all pastel colors surround you. Now it's time to get together with your loved ones once again. You are enjoying world cuisine in a 5-star restaurant located just above the sea. A great night awaits you. And you know, you can make private reservations for any time of the day and host your friends here. Hours pass like minutes during the day. If you wish, enjoy the sea at the private beach. If you wish, spend time alone in your own pool, completely by yourself. Grab your racket and play hard on the court. Get rid of all your stress at the SPA. If you wish, relax your mind in the zen garden. There are so many delightful things you can do among bougainvillea, among the scents of olive, sage and thyme… You don't want the day to end.
Moreover, service standards are kept at the same level throughout the year. While summer is being lived to the fullest, all seasons become a wonderful experience here beyond summer.
5.Elysium Premiere
Elysium Premier Bodrum is a hidden corner that makes you experience every sunrise and sunset with a sense of refreshment. It pushes the limits with only 8 villas that carry an elegance and charm beyond luxury. 360-degree view of Bodrum overlooking the endless blue, the lights of Bodrum Castle, which carries the spirit of the ancient period, and the silhouette of the island of Kos... Timeless, refined and subtle enough to embrace the present and all past times. Functional richness, impeccable originality and a striking visual impact.

Eight privileged villas with sea views stand out with their design that integrates with its unique location in Bodrum. The transparent transitions between the exterior and interior spaces and the all-glass façade bring the fascinating nature of Bodrum to the interior spaces. Famous brands and quality materials are used in each villa. The villas provide a niche living space to their residents with their spa area, indoor gym, large gardens and pools, outbuildings and private hobby room.

• Smart Home System
• 24/7 Security
• Heating and Cooling System
• Fire Warning and Warning System
• Specially Designed Professional Kitchen
• Heat and Sound Insulation
• Lift
• Jacuzzi
• Spa
• Xystus